Blackhawk Bancorp (OTCQX:BHWB)…with a name like that how could you not dig into the company? The bank name reminds me of the movie Black Hawk Down or the Sauk war leader Black Hawk himself. However, the bank has nothing to do with helicopters or Sauk war leaders – even though they do have a picture of planes on their 2015 annual report; which is a whole 16 pages long by the way. Likewise, the bank was founded in 1881 and is headquartered in Beloit, Wisconsin – thus, it's your typical boring bank.
Blackhawk operates eight banking centers – located in Wisconsin and Illinois. The bank is a small lender that specializes in commercial based loans – C&I loans equate to 33% of the loan portfolio, COO equate to 23% of the portfolio and Other Commercial loans equal 14% of the portfolio. The other remaining bulk of the loan portfolio, 23%, is 1-4 Family loans.
Unlike a lot of small banks, I have covered in the past, Blackhawk's stock price has been quite the volatile rollercoaster. Phil Timyan, explains it best in his excellent article titled,Community Banks Breaching Fiduciary Responsibility To Shareholders:
"BHWB's shares reached a 1998 high of $16, declining to a low of $8 in 2001.They recovered to $14 in 2005 only to drop to $5 in 2010. BHWB shares are now trading sporadically between $7 and $9."
Timyan's article was published back in early 2012 – and is one of the only public articles written on Blackhawk. Today the company is trading around $17.60/share, after retreating from a high of around $20/share.
At first glance, the company looks attractively priced: P/B of 86% and P/E around 7.41x. However, the P/B doesn't take into account the $5,037,000 in goodwill and the P/E doesn't account for the one-time gain associated with a fraud loss recovery. Taking into consideration the former the P/TBV becomes ~96% and the P/E turns into 10.84x – not as attractive as before.
On a dividend basis, the company recently increased their quarterly dividend from $0.02/share to $0.04/share – a 100% increase. Despite the attractive increase in the dividend, the company still pays a paltry annualized yield of only 0.91%. This yield isn't anything to brag about and I don't think we will see 'yield hungry' investors flocking to Blackhawk anytime in the near-term.
The company has also seen its interest income continuously fall in the past five years; from $24,822,000 in 2011 to a low of $22,234,000 in 2015 – a -10.43% decline. Despite the precipitous fall in interest income, noninterest expense has continued to increase from $19,551,000 in 2011 to a high of $21,341,000 in 2015 – a 9.16% increase. Sure, interest expenses in the five-year time period has fallen ~54% and net income has grown ~120%. Furthermore, ROE and ROA have hit five year highs of 8.90% and 0.66%, respectively. However, the continuous rise in noninterest expense is alarming and simply put, around twenty-one million a year in noninterest expenses is quite high for a bank with a market cap around forty million.
The biggest noninterest expense is salaries and employee benefits, which equate to 54% of noninterest expenses. This is then followed by occupancy and equipment, data processing and other, which equate to 12%, 11% and 10% of noninterest expenses, respectively.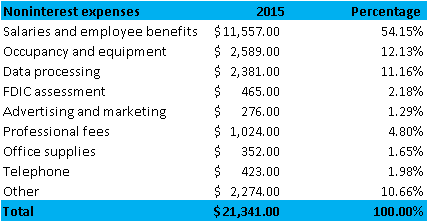 It's quite challenging for a small bank with under one billion in assets to achieve the scale they need to operate efficiently. There are a few things banks can do to offset the increasing regulatory expense environment and the low interest rate situation: scale up, drastically cut unneeded expenses or sell themselves.
I don't think Blackhawk is going to scale up anytime soon via acquisition – based upon the language in their recent annual report. I also am skeptical that noninterest expenses will be cut anytime soon either and will probably incrementally increase – especially on the salary side and from more stringent regulations.
One optimal case for producing 'quick' shareholder value is selling the bank completely.
(click to enlarge)

An acquirer could make a decent gain form cutting noninterest expenses. Based on our model above, an acquirer could come in, cut noninterest expenses 30% and applying a multiple of 10x we get a premium to takeout value of almost 100%. Even in the bear case, if an acquirer only cuts noninterest expenses by 15% and with a multiple of 8.0x there is still a solid 16% gain.
The model above doesn't take into account the interest expense savings from cutting out unneeded FHLB loans and the possibility of taking out the subordinated debentures from a potential acquirer. Taking the former into account, the upside from a potential acquirer becomes more attractive.
The key question is; will management perform their fiduciary duty to shareholders and maximize value? I'd think not. First, the CEO and CFO are still 'younger' than your typical bank CEO who is looking to sell to maximize value for himself. Secondly, executive officers hold a paltry amount of shares outstanding- meaning they will realize more value for themselves on a going concern basis. Finally, the language in the recent financials speak of organic growth – not the maximization of value via outright sale.
Thus, as it appears now, the future of Blackhawk bank is to continue operating with a high-end efficiency ratio of ~77%. It is unlikely the bank will ever command a P/TBV over 1.00x and the stock appears to be appropriately valued by the market. Unless there is a dramatic price drop, management alludes to cutting noninterest expenses or the bank starts looking for a sale, an investment in the company appears to be ill-advised.